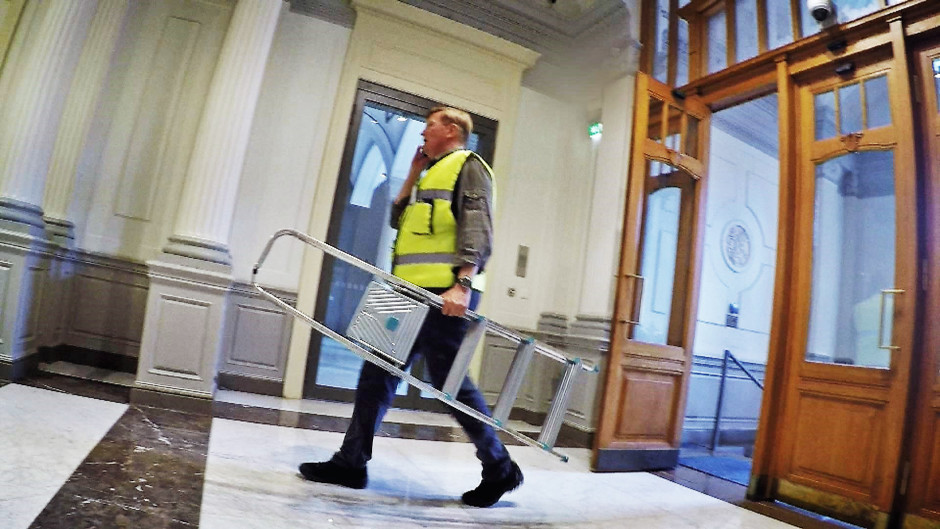 A safety vest and a ladder will take you (almost) everywhere | Yle Uutiset
Yle's A-studio news program tested security measures in various official and corporate buildings in and around Helsinki, and found serious deficiencies in many places.
Using a simple ladder and a high-visibility safety vest, Yle's undercover journalist managed to enter 10 of the 11 locations, including the Bank of Finland, Helsinki Airport and the Radiological and nuclear safety authority.
Eleven locations were selected for the test based on their public importance and their importance to general security or information security:
The test was conducted by Pasi Peiponen, a reporter from Yle's A-Studio, who wore an unmarked high-visibility yellow vest and a blank key card. His prop was a small foldable ladder and in some places he also wore a helmet.
The experiment was filmed with a hidden camera, and he was able to enter 10 of the 11 locations tested.
The tape shows how Peiponen is waved through doors and gates to access offices and staff areas with varying levels of security. After accessing it, he turned around and walked away rather than going any further into the buildings.
Security protocols are maintained at Hanasaari Power Plant
The only site where Peiponen was refused entry was the Hanasaari Power Plant. Mats Fagerström, head of security at Helsinki Energy Company Helen, said the warden had acted in an exemplary manner.
"A person who works for us is responsible for a lot of things," he says. "I think the people in charge of the security company and the training they provide play a major role.
Yle showed the recording to institutions and companies tested. Most of them said lobby staff were not following established guidelines and that practices needed to be improved.
Some have taken a more critical look at their practices. "Until now, we have left the front door open, but now we are considering closing it," says Elisa Newby, communications manager at the Bank of Finland.
"We remain confident in our security practices"
On the other hand, not all were particularly concerned with the recording. Security chief Juha Härkönen of Fortum said the energy company's headquarters had been divided into separate areas requiring different levels of security clearance.
"No foreigners will enter these areas, not even me."
"Also, I don't want a world or Finland where everything is blocked, closed or locked," Härkönen said.
Likewise, Finavia's chief risk officer, Juha-Pekka Pystynen, claims that while Yle's journalist was able to gain access to an area reserved for non-critical staff in Helsinki Airport Terminal 2, he would not presented no safety risk.
"Every now and then people wind up here by accident. However, credentials will be verified for anyone trying to enter security critical areas," Pystynen said.
"We remain confident in our security practices and as such registration will not require us to change them," said Pystynen.
Jouko Jokinen, Yle's head of information and day-to-day affairs, said he hoped the locations in question would improve their security practices and measures following the briefing.
"The unorthodox way to collect the information has been pre-approved by Yle's management," he says.