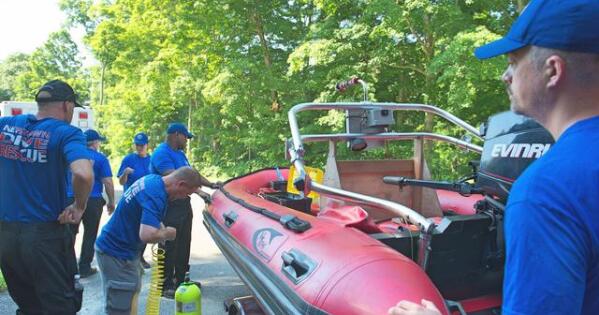 Dive into a mock call with Newtown Underwater Search and Rescue
Newtown Underwater Search And Rescue (NUSAR) opened its station on June 26 for city leaders and other guests to visit and learn about this unique local public safety agency. Along with exploring the Riverside Road intersection, a mock call was made and members responded as an exercise, giving viewers a chance to see the volunteer team in action.
NUSAR Chief Mike McCarthy and Deputy Chief Dr. Mike Cassetta greeted visitors upon arrival and began the tour before the mock call was made.
Explaining that there is a larger boat and a smaller boat available to NUSAR, McCarthy and Cassetta shared that the smallest boat currently in use is McCarthy's, not NUSAR's, because NUSAR's smallest boat is not repairable. NUSAR is waiting for the city to replace the smaller boat.
"The vital needs of the smaller boat are that if we're on the scene and everyone rallies on the big boat, you can send officers ahead," Cassetta said. "But we also go to a lot of smaller bodies of water, where you can't put the big boat in and we have to operate from the smaller boat."
According to Cassetta, a recent call required the smaller boat to back up a meandering slope, which the larger boat would not have accommodated.
NUSAR's regularly used small boat, larger boat and two trucks were mostly funded by fundraisers, according to McCarthy. Fundraisers have been difficult to hold with the pandemic, and NUSAR is organizing a new fundraiser for this September 17th.
Cassetta said the team will host a dive-a-thon at Eichler's Cove Marina and Launch. NUSAR members, from noon to 8 p.m., will dive for half-hour intervals with cameras to talk with people on shore. The event aims to demonstrate what NUSAR does in the water.
NUSAR goes wherever it is called, according to McCarthy.
"We cover a good chunk of western Connecticut," McCarthy said, adding that there are other teams in the state and that NUSAR is the "only real team in the state that just dives and to drink". Other teams are police and firefighters, according to McCarthy.
A 24/7 intervention agency
Cassetta said NUSAR works year-round, even in freezing conditions.
"Even in bad weather, we go there," Cassetta said.
McCarthy explained that after the tour group walked around the building for a bit, they would witness the mock call.
"We are going to be dispatched, our people are going to come in. They're at home wherever they are… They'll show up for you to see what we're going through to get it all out of the building," McCarthy said.
"The goal," McCarthy said, is to construct a new building on the property, behind the current building in a field. Estimates of the cost of the building range from $800,000 to $1.3 million. It would be a steel structure about 60 feet by 80 feet, according to McCarthy.
The current building was previously used for the Sandy Hook Social Boys & Athletic Club (SAC), McCarthy continued.
"When we get a call, you'll see, getting out of here is a heroic effort," Cassetta said. "Particularly when we only have three to four guys showing up initially."
If "things were different", with a new space, Cassetta said that ideally NUSAR would be able to mobilize with just two people, "which would significantly reduce our response times".
NUSAR team members dive with approximately 75 pounds of equipment. They dive with full masks, wetsuits and diving gloves. Thus, if team members dive into contaminated water, the water does not touch their skin. They're also diving with a spare air cylinder, and all are on push communication, McCarthy explained.
Cassetta left before the fake call, and McCarthy continued to talk about the team's recent dives, like an overturned kayak.
"When we go out, we do the work we need to do," McCarthy said.
McCarthy explained how NUSAR uses side scan to verify dive locations. Looking around the room, he said anyone could walk around the room and check it out in minutes, but while diving, clearing the same sized space would take an hour or more.
The large boat, "stuck in the corner because we have nowhere to put it," is on wheels, McCarthy shared, and it weighs nearly 5,000 pounds. NUSAR would also like another truck to help with storage.
Simulate a call
And with that, McCarthy called dispatch to start the fake call.
"Newtown to all units, this is a drill," the call came shortly after.
McCarthy recounted the process at the time of the fake call, saying there was a car in the water on Walnut Tree Hill Road.
As the assembled group watched, NUSAR members arrived after driving from their homes. NUSAR trucks were chased out of space, boats were navigated and hooked up for transport, and "they were on the road," McCarthy said.
From the time the fake call was sent, the dispatch to the team leaving for the location took approximately 20 minutes.
NUSAR is sent between 12 and 30 times a year, McCarthy said, adding that the number of calls has increased during the pandemic.
"This year is going to be a banner year, it seems," McCarthy said.
About 50% of the team are Newtown residents. Other members live in towns in the region, such as Monroe and Cheshire.
After team members returned from the mock call, a demonstration of NUSAR's equipment was given and Cassetta shared a presentation he created for other dive teams. Attendees learned about the security checks NUSAR members undergo before entering the water and more.
When on-site for a rescue situation, Cassetta shared that the team has a "golden hour" of up to two hours when resuscitation of a victim is possible.
Cassetta also shared videos of dives. In the greens and browns of the water, bubbles could be seen. Otherwise, visibility was very poor, and that's typical, which is why scanning is so useful.
Cassetta stressed that anyone who spends time on the water should wear a life jacket.
More information about NUSAR is available on its website nusar.org.
Education Editor Eliza Hallabeck can be reached at [email protected]
NUSAR members – left to right, Cooper Whiteside, Deputy Chief Dr Mike Cassetta and Dawn Singer; Brian Solt, center forward; Richard Wilford, fullback; and Dan Granucci, right, prepare to leave for the June 26 fake call. —Bee Photo, Hallabeck
NUSAR team members prepare the small boat for the mock call June 26 as people watch from the station, right. —Bee Pictures, Hallabeck
NUSAR Lt. Hans Williams helps lead the team's large boat out of Riverside Road station on 26 June.
NUSAR Chief Mike McCarthy makes a dispatch call to begin the June 26 mock call.
NUSAR member Richard Wilford, left, and Lt. Hans Williams, right, demonstrate equipment as member Matt Rownin watches from behind.
NUSAR members, left to right, Captain Connor Rieve, Deputy Chief Dr Mike Casetta, Cooper Whiteside and Dan Granucci navigate the big boat out of the station June 26.