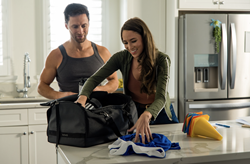 DRESSFRESH® launches NOVO™ Duffel, a smart bag that eliminates germs and odors
The NOVO Duffel Bag has a smart, built-in process that refreshes and sanitizes your clothing, workout gear, and accessories. What a great tool at a time like this to keep you and your gear clean so you can continue to perform at a high level safely.

SAN DIEGO (PRWEB)
February 23, 2022
Doing laundry is a time-consuming hassle most people dread, but NOVO™ Duffel is a convenient way to refresh items on the go. This waterless, eco-friendly cleaning system uses ionization to help sanitize in style, eliminating viruses, bacteria, fungi and odors from everyday clothes, workout clothes and sports equipment that is notorious for its foul odors.
Studies have shown that 70% of laundry soiling is caused by body soiling invisible to the naked eye, such as sweat, skin cells and salt. NOVO™ Duffel offers an easy way to freshen up activewear, sports equipment, and packed clothes for the gym, a quick business trip, or a weekend getaway. Patented technology sanitizes items without the need for water, chemicals or cleaning equipment. NOVO™ also conditions clothes between washes to help extend the life of fabric.
In 2015, as a student working on his Capstone engineering design project, Aram J. Razouki (AJ) started the DRESSFRESH® company. Through research, AJ found that most items didn't get very dirty after just one use and didn't need to be fully cleaned or washed every time. AJ invented the DRESSFRESH® technology found in NOVO™ Duffel which is able to kill germs and neutralize odors on hard to clean items and materials, without using water or chemicals. In 2017, AJ moved his business from Calgary, Canada to San Diego, California. DRESSFRESH® was named a Top 10 Startup by StartUp San Diego last year, and the patented refreshing technology has been featured in Yahoo!, SD Voyager and CBC News.
"We all have shirts, shorts, shoes, sports bras, compression shorts and socks that stink from all the hard work we put into them. To me, there's no way to escape that part of the job," said CrossFit Invictus trainer Bryce Smith. and Athlete. "The NOVO Duffel Bag has a smart process built in that refreshes and sanitizes your clothes, workout gear, and accessories. What a great tool at a time like this to keep you and your gear clean so you can continue to perform at a high level in complete safety.
Although NOVO™ Duffel won't remove dirt or stains, items that are simply stinky and worn can be refreshed inside the bag. Place dry and dirty items inside the bag and close it with a zipper. The NOVO™ cooling system supercharges the air in the bag by creating ionized oxygen that kills anything living at the microbial level. The air then passes through a lightly scented filter cartridge to remove remaining gases and by-products, leaving everything inside refreshed.
NOVO™ Duffel is powered by a rechargeable battery that can be quickly charged in four hours. The DRESSFRESH® Connect app allows consumers to select one of four cleaning cycles, all under one hour, depending on the items placed inside. In-app notifications alert users when the filter cartridge or battery is low. NOVO™ Duffel has two built-in fast charging ports, one USB-C and one USB for electronics, in its external side pocket. The exterior of NOVO™ Duffel is made from weather resistant material, ideal for travel. The system does not need to be removed from the TSA bag and can easily be used as hand luggage. Airtight zippers aid in the performance of the cleaning process and have been selected to withstand years of daily use.
It is a smart refresh technology. To pre-order a NOVO™ Duffel, visit pr.go2.fund/dressfresh.
About DRESSFRESH, INC.

The DRESSFRESH® team works hard to drive change where it matters, reducing our environmental impact. By choosing to reduce, reuse and refresh, people save on the energy and chemicals needed to clean these items with today's current methods. Individuals also help extend the life of their favorite items so they last longer. The team works hard to protect our most precious resource on planet Earth: water.
The team is developing waterless cleaning technology that can reduce the amount of laundry, dry cleaning and chemicals people consume. Excessive use of these cleaning methods increases our footprint on planet Earth. Contribute to the conservation of water and the oceans by choosing to refresh yourself. Join the DRESSFRESH® revolution to raise awareness about cleaning together. For more information, visit http://www.dressfresh.com.
Share the article on social networks or by e-mail: