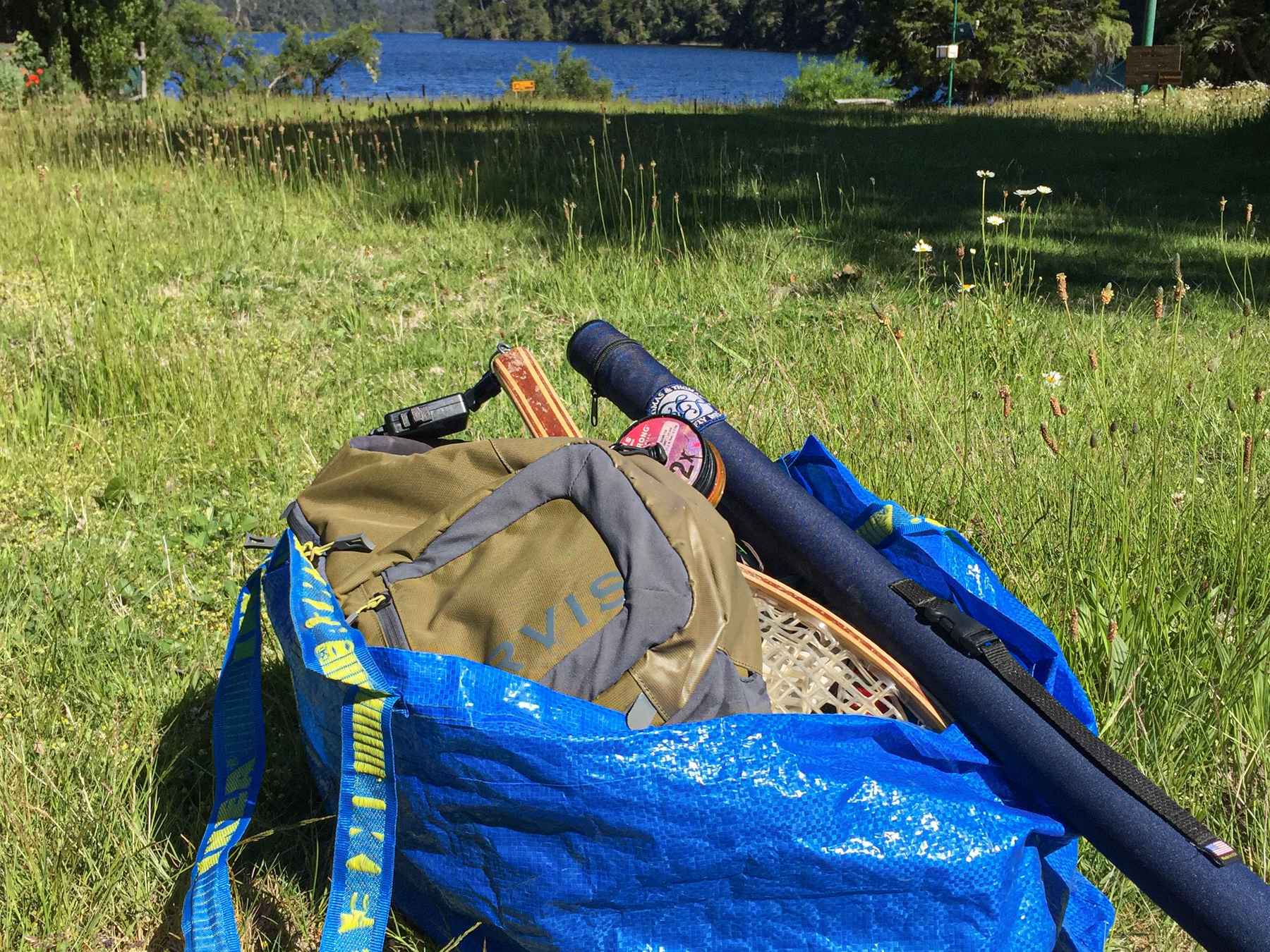 IKEA Frakta: One wader bag to rule them all | Hatch magazine
Random encounters in the woods are usually brief and just a simple nod and a slowing step as you pass each other and continue to your respective destinations. Not this one.
I was going down to fish a little-known, unnamed stream near a well-known, well-named climbing destination when a climber and I met on the trail. He carried his ropes, belt, cams, and wedges in his gear bag, and I had my wading and fishing gear in mine.
We are arrested. We carried the same bag. That's not so bad, because any decent outdoor bag can carry just about anything, but I've never seen anyone else use this particular bag outside of a shopping center car park.
The IKEA Frakta Big Blue bag. It costs 99 cents.
Splitting my time between NYC and a cabin in Catskills, I spend a lot of effort carrying things between the two and so I have dozens of bags, packs and cases that all serve a purpose. And while I'm somewhat brand agnostic, I think the LL Bean Zip Tote is a great bag and has six of them in different sizes. But that doesn't make a great paddling bag. Tried it – the opening is just too narrow and it clicks in pretty quickly. I have also used wader options from most major fly fishing brands. I had hope for the Simms Taco bag when I bought it. It seemed simple and quite cheap, but it was a big disappointment. Every time I lifted it the ends fell off and water ran out. My doorman wasn't too happy when I left a trail of Willowemoc Creek across the hall. I need a simple, large and waterproof solution.
The Frakta was a fluke. I was drying my waders and boots from an early morning outing when a friend called to say green drakes were jumping on a nearby river and I had to come NOW!!! The taco was soggy and dripping so I threw it in the half-empty blue bag my wife used for recycling in the back of the car.
When I got to the river, I was happy to see that while the empty cans were wet, the trunk of the car was dry. I hung the Taco from a tree to dry and stomped on the boxes flat while I stood in the Frakta and slipped on my waders and boots. My socks remained without gravel. After fishing, I jumped back into the bag and put my street clothes back on. There was so much room that I just left the thigh high socks in the boots. I was hooked. I left the Taco on the tree in case another angler needed it.
People have been hacking the Frakta for years: backpacks, hats, wedding dresses, aprons, planters, stocking stuffers and of course, using it to stock up on NORJIG trays and RÖNNSPIREA candle lids. IKEA says it's strong enough to carry 50 pounds and I had the opportunity to measure the load capacity of the bag. It can hold 14 pieces of camping wood, about 10 gallons of water – I used it to carry water to my cabin when the spring box was clogged – and it can carry a litter of Griffon puppies . Not for long…they're squirming little guys.
My thing ? The Frakta fits my boots, waders, shoulder bag, rod, net, change of clothes, lunch, and after-fishing six-pack with ice. And the other three things I think I'll need and add as I leave.
My grandmother was a poor farmer who emigrated from Ukraine during the war. She saved plastic grocery bags (with our family) to reuse. This is not unusual as we all have grocery bags that we reuse around the house, but usually they are only reused once. Not his. It was a time when plastic grocery bags were substantial – thick and the right size – and to her, they were a treasure. She couldn't believe someone would just give them away. Once empty, she would carefully fold the bags – so diligently that they would eventually develop seams – and place them in her special bag drawer. Guess she's had some of these bags for a decade.
I feel the same for the Frakta. 99 cents, waterproof and functional as hell? They practically give it away! Although I have about ten, I have been using the same one for years. He's been all over the United States and Canada; as well as Iceland, Ireland and Argentina.
Secretly, I really like that it never gets confused with another angler's bag. A friend picked me up for a week-long fishing trip to Nova Scotia and his gear was neatly packed in matching Filson luggage, stacked like a perfect tower of Jenga blocks in the back of his truck. I looked like someone who lived at the Port Authority bus station. When we arrived he was busy tying bags until he looked like some sort of Filson inspired Christmas tree, while I grabbed my nice big blue bag with all my gear fishing and I was on the river within minutes. (I also caught the only salmon of the trip, but out of respect for my buddy, I won't mention that here.)
And even though I've never been lost lost, I'm sure its cheerful blue color would allow Search & Rescue to track me down in no time and get me a decent rain cover while I wait.
Drakes are hatching again. Curiosity hit me when I loaded up the Frakta, so I quickly added the gear inside the bag: waders $500; boots $200; rod, reel, line $800; sling, flies, tools $400. $1900 or more. There is an extra large 20 gallon Frakta with a zipper that I should look into as I think I can lock it up.
But it's $4.99 and my grandma might disagree.