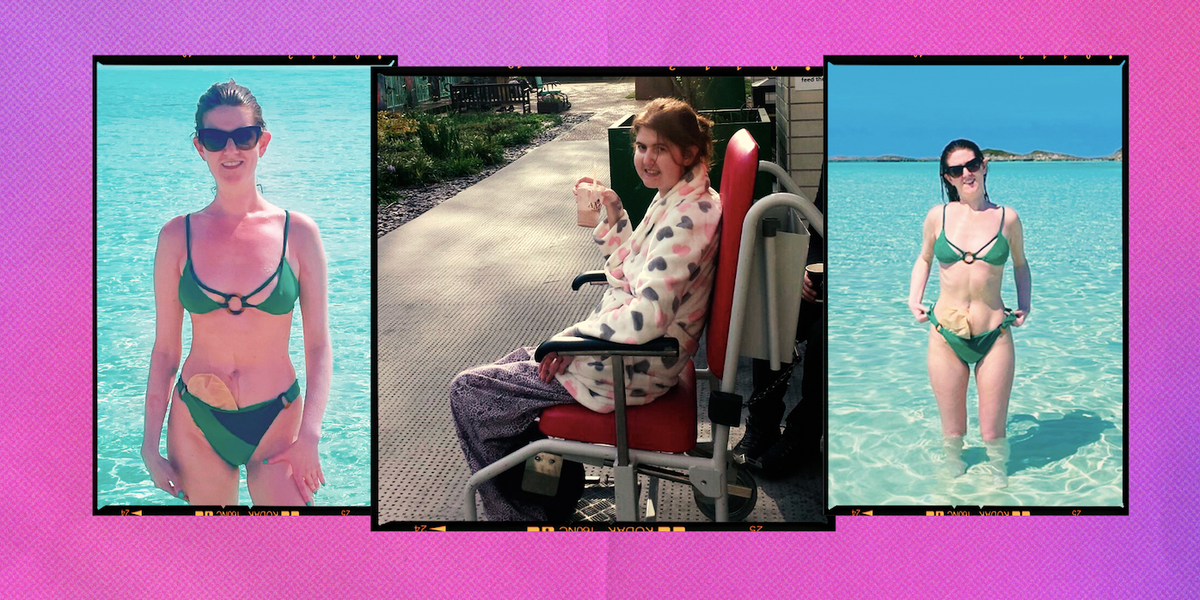 Living with Crohn's disease – "my ostomy bag saved my life"
I slammed my vodka mixer, spilling it onto the bar. "I have to get out now," I shouted, already stumbling towards the club restroom sign in my high heels. The urgency was unbearable.
Hours before, we had laughed, joked, taken selfies and toasted our successes while drinking in our hotel room. I was on vacation in Las Vegas, a 23 year old bachelor with her best friends – it was supposed to be the time of my life. But the excruciating cramps and blood I lost on each of those excessive trips to the bathroom meant it was anything but.
My life was just beginning to become magical – brimming with opportunity. I had landed my dream job at a law firm as a paralegal. My social life was thriving – I went out every weekend with friends to make memories. But that all changed on that trip to America in 2013, I started seeing more dirty tiles in public restrooms than anything else. I just attribute my symptoms to going out, drinking too much, and eating bad food – like you do on vacation.
On my return from America I made an appointment with my GP, who told me I might have Crohn's disease – an inflammatory bowel disease (IBD) which causes chronic inflammation of the tract gastrointestinal. My friend picked me up from surgery and I burst into tears as fear began to bubble up inside me. Could I really have such a cruel disease?
After this appointment, I had more discomfort. The stomach cramps were excruciating, pains that would keep me up all night. I had also lost so much blood in my stool that I was becoming anemic. I was always trying to be a party girl, going to bars most nights of the week – I never thought what was happening to me was real.
The diagnosis that changed my life
But six months later, in May 2013, my illness was confirmed – I was diagnosed with ulcerative colitis (an inflammatory bowel disease that causes inflammation and ulcers in the lining of the colon) and took medication. Luckily, taking four pills a day dramatically reduced my nightmarish symptoms of diarrhea, rectal bleeding, and stomach pain. I thought my life was no longer in danger as I started to feel like myself again, the drugs were working.
But two years later, another wave of symptoms returned – bigger and more severe than ever. The urgency and loss of control became so unpredictable that walking a few feet would cause pain or an urge to go to the bathroom. Some days I went to the bathroom more than 25 times. My new reality was that I was awake every hour with stomach pains, and when the urge to go came, I had to go and then. My independence, my life – everything I once had – was slipping away from me. The last two years felt like a lie, I was never 'cured' of my symptoms, my GP told me I was in what they call a remission phase.
Even my commute to work has become a dangerous zone. This happened on the subway one night, which felt like the longest and most mortifying journey of my life. I was with a friend and couldn't hold him back. As soon as we found a toilet, I ripped off my pantyhose and threw them away. I was so ashamed as tears rolled down my cheeks – and it wasn't just because I had ruined yet another new work dress.
My inability to perform even the simplest of tasks left me housebound and forced me to leave the law firm I loved. Not being able to work was difficult. Most people complain about the work, but that's all I wanted to do. I watched my friends move on with their lives, and even though I tried my best to get out, it never ended well. I had lost so much weight that even my friends walked past me because they no longer recognized me.
Looking for answers
The time of 4:05 a.m. flashed on the alarm clock, my phone stuck in my hand, overflowing with tabs on my screen, illuminating my face in a silent room of darkness. This is how I spent my sleepless nights and housebound days: looking for things that could make me better. I desperately searched for a cure, a glimmer of hope. When I wasn't going down rabbit holes online, I spent my time connecting with people through Facebook groups. That's where I met a girl who also had Crohn's disease. I felt comforted to have her there to send a message because I was so afraid of being alone. I wanted someone who understood the pain.
One evening, while we were chatting on Messenger, she said the unthinkable: "Listen, it doesn't seem to be getting better, maybe you need to go to the hospital.
"Absolutely not," I snapped. I couldn't admit that was exactly where I needed to be.
It's almost like I've gone bad because soon after my body started rejecting the steroids I was on and I was rushed to the hospital. They originally thought it would take five nights of intravenous steroids to get back on track, but I didn't answer. I found myself in a shared room for three weeks attached to two IVs, one in each arm. I stared at the clinical overhead lights that never turned off, not even at night, thinking maybe this was my life now, this is how it ends.
One morning the surgeon sat on the end of my bed, an ostomy bag might be the only thing that could save me, he said. I knew what an ostomy bag looked like and what it did, but I wasn't ready to have one. I was 25, I didn't think I could live a happy life with it. Looking back, I don't know why I was so adamantly against it. I was just terrified of accepting this fate.
Eventually the time came when I had no other choice. It was a Wednesday in April 2016, I remember it like it was yesterday when the nurse said it was the end of the road for me. The thought of death literally around the corner made my heart skip a beat. I was days away from rupturing my intestinal perforation (a hole in the lining of my colon) and I knew I could die – unless I had surgery in the next few days. And so, it was confirmed, it was my destiny. The day before the operation, questions arose in my head. Can I wear tight clothes with a bag? Eat the same foods?
I was in surgery for eight hours while I had my stoma in place. Basically, it's an opening on the surface of my belly to allow the flow of feces or urine into a watertight pocket. Two days later, when I looked at it for the first time, I felt nothing but relief. It's the best thing that ever happened to me. I have since returned to work, regained my freedom and independence, and been able to see my friends again after months of isolation. It was as if I had rediscovered the old me.
The only downside to having IBD that no one talks about is that it can lead to perianal fistula and sepsis, that's what happened to me and it meant I had a 10cm abscess on my cheek which s was infected. I then had the second part of my colon removed in March 2020, making my stoma irreversible. It's here to stay but I'm more than ok with that. My ostomy gave me so many opportunities that it completely changed my outlook on life.
In 2016, during one of those many hospital days, my mother gave me a journal. I opened the spine, the smell of fresh pages felt like a fresh start. I started jotting down all my desires – sort of a to-do list – a trip to Pig Island in the Bahamas to swim in the sea again was at the very top. It felt like a dream, but just three weeks ago I came back from that dream vacation, swimming with those piggies in the Bahamas. At the time, I felt like I was never going to get out of bed again. I'm so proud of myself and to have come this far. I have been healthier for a long time. I don't care what other people think. People will look at my bag – especially when I'm wearing a bikini – but it's due to ignorance, they can look at all they want, but it saved my life.
---
Bethany Jacobs joined Lawrence Stephens as a paralegal in the Litigation Department in November 2018. In her spare time, Bethany enjoys exploring new restaurants and is an avid traveler. For 2022, Lawrence Stephen's chosen charity partner is Crohn's and Colitis UK.
The Crohn's and Colitis Foundation says it's important not to confuse IBD like Crohn's with IBS. IBS is a disorder that affects the muscle contractions of the intestine and is not characterized by intestinal inflammation or chronic disease. Please visit Crohn's and Colitis Foundation for more information. Consult your GP if you are concerned about your own symptoms
This content is created and maintained by a third party, and uploaded to this page to help users provide their email addresses. You may be able to find more information about this and similar content on piano.io