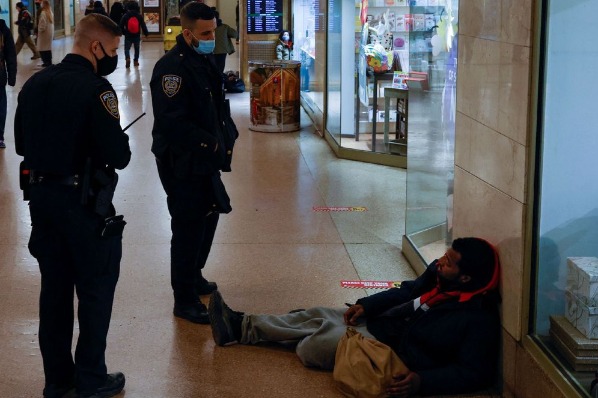 New York's subway safety plan fails to address homelessness
A homeless man was sleeping on a platform at the Pennsylvania train station in Manhattan on Wednesday morning, covered only by a thin layer of orange foil.
About 20 minutes later, two police officers arrived, lifted the foil and asked him to move. He got up slowly, put on his shoes, grabbed his belongings, went down the stairs and lay down in another corner of the station.
A month after New York City Mayor Eric Adams announced a safety plan to stop people living in the city's subway stations, some platforms and trains have fewer homeless people. However, many needy people still take refuge in the metro.
On February 18, Adams and New York Governor Kathy Hochul announced that more than 1,000 people sheltering in the largest subway system in the United States would be forced to leave, following an increase violent crime, including several high-profile attacks linked to homelessness.
"No more tobacco, no more drugs, no more sleep, no more barbecues, no more doing whatever you want," Adams said as he detailed his subway safety plan. "Those days are over. Swipe your MetroCard, take the system, get off at your destination.
But transforming a massive subway system with 472 stations and thousands of carriages in service is difficult.
During the morning rush hour at the Hoyt-Schermerhorn Streets station in Brooklyn, a homeless man sleeps in a chair on a platform as commuters throng the busy station.
At the busy Pennsylvania Station, identified by City Hall as one of six subway stations with the "greatest need" for homeless outreach, police and outreach teams approach homeless people and their ask to leave. However, requests only move them to another part of the station.
On Wednesday, China Daily spotted an outreach team at Pennsylvania Station. The team consisted of four people; three social workers wearing orange vests with clipboards and a health worker wearing a black vest.
Joon Park, the health worker providing assistance, holds a flyer that lists 17 agencies that provide homeless people with rights, benefits and advocacy, such as housing and job training. "If they accept our help, we will transport them to a certain place," he said.
If homeless people refuse to accept help, the outreach team will try to reconnect in the future, Park said.
Advocates and social workers say it can take months of commitment and confidence-building to convince chronically homeless people to live in a shelter.
JC, 34, is a US Army veteran who sleeps on the subway and says he feels lucky if he gets an hour of sleep. He stored all of his belongings in a subway tunnel near Bryant Park in midtown Manhattan for three years. "All the subway workers there know it's veteran stuff. They don't move it," he said.
The last time JC went to a homeless shelter was in 2016. He said he nearly killed someone at the shelter because he suffered from post-traumatic stress disorder . "I don't feel safe staying in a shelter, I don't think others are safe if I stay in a shelter," JC told China Daily.
Civil rights lawyers and homeless advocates say New York's new subway safety plan is fatally flawed because it doesn't adequately answer the question of where homeless people should go.
"It's kind of very magical to think that we're going to get people off the subway when you don't have a place to put them," Beth Haroules, senior attorney for the New York Civil Liberties Union, told NBC New. York.
"You can remove that person, but what do you do for the person? You improve the feeling of the neighborhood or you improve people's comfort in the subway, but you don't solve the problem."