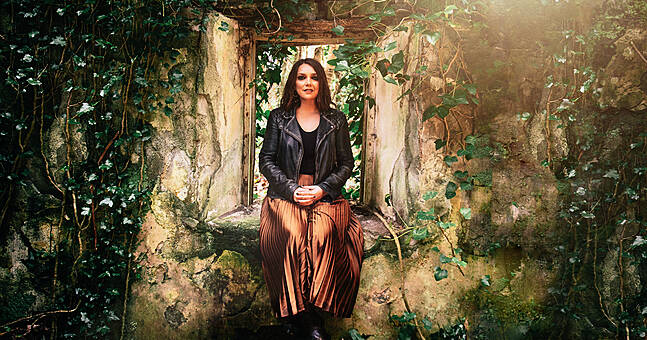 Pauline Scanlon: "Tradition in Ireland is a funny thing. People keep it, and they're right. But not every element of every culture is worth keeping"
Pauline Scanlon talks about drawing inspiration from the lives of Irish women on her new album, The disturbing – and her fight for equality in the Irish traditional and folk music scene as the founder of FairPlé.
Old traditional songs have always been an attraction for Pauline Scanlon. She is, however, unconvinced by ongoing attempts to bring the current crop of acclaimed Irish folk and traditional musicians under another umbrella of 'folk revival'.
"For something to have been resurrected, it must have disappeared", she underlines. "But traditional songs never do. It is their nature. They are a very long lasting presence in Ireland. The songs are still there – it's just the people who hear them change, with each generation.
On his new album, The disturbingthe singer, from Dingle, County Kerry, approaches these songs in a very unique and subversive way – embarking on an exploration of the lives of modern women, including her late mother Eileen, through music traditional.
"I wanted to sing an entire life," she tells me. "My mother passed away and she lived a lifetime. She was a bright spark and a true feminist. She had a point of view that I share on many things. And I knew her very well, of course. So, wanting to sing the life of a woman, I decided to sing hers.
Some of the women's experiences that Pauline sets out to capture on the album are, sadly, more relevant than ever – with tragic cases once again sparking conversations about violence against women, and various #MeToo movements continuing to spread. in the world.
"My own #MeToo moment is in there," she says. "The album was very inspired by my mom, but there's a lot of other stuff in there that would be mine. 'The Two Magicians' is a #MeToo song, for lack of a better phrase.
"The goal was to connect traditional songs to the experiences of modern women," she adds. "I know women have experienced this through the ages, but I wanted to sing it from my own perspective, as a contemporary woman."
His version of "The Bird In The Bush", meanwhile – the folk song that also gave the title to AL Lloyd, Anne Briggs and Frankie Armstrong's 1966 album "Traditional Erotic Songs" for Topic Records – is a bold embrace of female sexuality.
"Female sexuality shows up in other songs, but I find it very projected onto us – in the sense that it can be about lofty and lofty ideals of feminine beauty, grace and purity," she reflects. "Being admired is different from feeling sexual. There are also a lot of songs about shame in the global folk canon. But there aren't many like that. I identify with women's sense of sexuality. .
She joined The disturbing by long-time collaborator producer John Reynolds.
"I did my very first solo album with John almost 20 years ago now," she recalls. "It's a very strong creative partnership. He's great to work with because he's very respectful of everyone in the room and everyone's point of view. It's always about serving the feeling, emotion and intent of the song. He has a way of turning things around emotionally and then the music follows.
Damien Dempsey also makes an appearance – the Dublin singer-songwriter teaming up with Pauline for a particularly moving rendition of 'The Unquiet Grave'.
"We all love Damo!" she laughs. "We have a good, deep singing connection, Damo and I, because we've collaborated so much over the years. We both work with John, and we're in the same musical family. He always brings such sincerity and depth to every last note he sings.
Dempsey is also one of many prominent musicians who have expressed their support for FairPlé, an organization which Pauline co-founded, to ensure gender balance in all aspects of the Irish traditional and folk music community. The group is also trying to change the culture within the community that has allowed gender-based harassment and violence.
Pauline – who has spoken openly about her own experiences with sexual assault and predatory behavior – tells me that FairPlé has encountered "a mixed response" since its inception in 2018.
"We had a lot of support, but there was also a lot of backlash," she notes. "People are very proud of traditional and folk music in Ireland. Our criticism was not necessarily about the music, but about the need to question the culture that surrounds it. If you're part of a community and don't feel comfortable reviewing or watching things in it that all members or participants aren't happy with, then you're just maintaining the status. quo – and that's not a good thing. in any area of ​​life. Especially given the history of women in Ireland. Just listen to women! If some portion of the women who work and live and breathe in a community are dissatisfied, or uncomfortable, or treated unequally, then that deserves attention.
"Tradition in Ireland is a funny thing," she continues. "People are keeping it, and they are right to do so. But not all elements of all cultures are worth keeping.
Does she expect the community to gradually move in a positive direction, as far as gender equality is concerned?
"I'm hopeful," she said. "But at the same time, when we launched FairPlé, we were looking carefully at gender equity in the line-ups. We're only looking at this year's festivals right now – and, to be honest, that's "is pretty dismal. It hasn't changed much. People talk about changing it, and are more aware of it, but whether it's put into action and practiced or not…my jury is still out!"
She believes that men in the community should also use their own platforms to speak out on issues like this.
"Some of them do, and some of them don't," she muses. "At some point, maybe it will be something that male musicians will consider – if they look at a line-up and there are very few women on it, they will say something and use their voice for the amplify. But it's not happening as much as it should.
"I mean, I get it, it's hard to make a living working in the arts," she adds. "I feel like people don't want to upset the apple basket. They don't want to bother people with money and programmers. So they say nothing, and everyone looks for their little patch. That's why we formed the organization – so we could monitor everyone's patches.
For now, with The disturbing finally unleashed on the world, Pauline is in no hurry to move on to the next project.
"I'm terrible," she smiles. "I'll probably get into my trailer for the summer, and maybe regroup again in September, and think about what I'm going to do. I'm looking forward to having a free summer, with a few gigs here and there. I'll be in North Mayo – alone, reading books! »
The disturbing is out now. Pauline Scanlon performs at the Royal Spa Hotel & Cafe, Lisdoonvarna, Co. Clare (May 15); Theater Royal Castlebar, Co. Mayo (19); Raheen House Hotel, Clonmel, County Tipperary (20); Gleneagle INEC Arena, County Kerry (21); and Pepper Canister Church, Dublin (16 September).