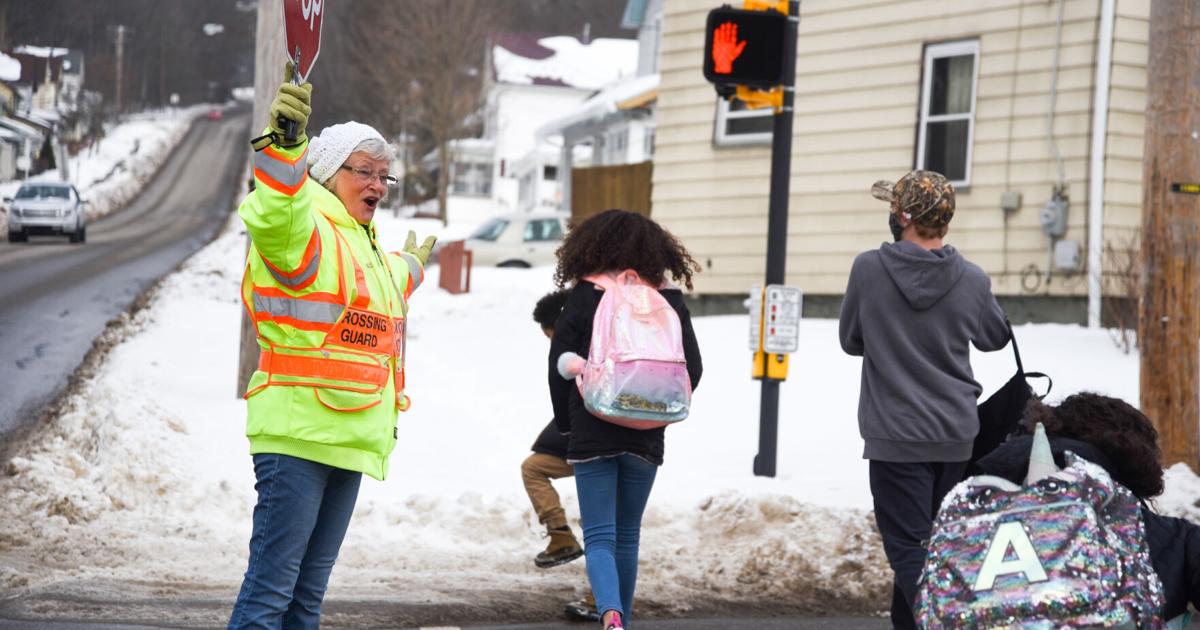 Rangers ready to serve in all weather conditions | News
Dressed in a neon yellow jacket, orange vest, white knit beanie and yellow gloves and armed with a hand-held stop sign the size of a pizza shovel, Carole Zimmerman was easy to be spotted at the corner of Washington and Clark streets.
You don't want to blend in when leading school kids through busy streets as one of the crossing guards stationed at 16 intersections around Meadville.
"I like it, really," Zimmerman, 66, said of the job she's had for 31 years. "I like being with children."
Zimmerman loves his job enough to brave winter conditions every morning from 7 a.m. to 8 a.m. and every afternoon from about 2:15 to 3 p.m. It's the part of the job she doesn't like. She gets summers, but would prefer a winter break.
"That's when I really appreciate them the most," said Sgt. Vince Trenga of the Meadville Police Department, who coordinates the school crossing guard program in his role as school safety officer for the Crawford Central School District. "It's usually not hard work, but it can be in bad weather. They really step up and they're there in all conditions.
If he could, Trenga might like to clone Zimmerman. Since he cannot do this, he is always on the lookout for additional full-time staff and available replacements when needed. Throughout the current school year, he said, the school crossing guard corps has always been short of one person and has been forced to rely on replacements.
Trenga did not believe the shortage was related to the pandemic. He said full-time crossing guards are paid about $22 a day.
"It's hard to find good, reliable school crossing guards," Trenga said. "Hiring school crossing guards is a process. Each candidate is required to pass an oral, physical interview and four background checks.
According to Trenga, finding the right kind of people pays off for students and parents. Staff members take pride in their work and do more than just help children cross the street. They anticipate dangers and flag problems that could affect pedestrians, according to Trenga. Patrollers call regularly for everything from traffic conditions to honeycombs — like the one that nearly caused one of Zimmerman's walkers to swallow a bee a few years ago.
"He coughed and cried, but he was fine," Zimmerman recalled.
As she waited for the students on Tuesday afternoon, the day was around 24 degrees and sunny. Zimmerman was standing at the southwest corner of the Washington and Clark intersection, where a narrow channel had been shoveled through more than a foot of snow onto the sidewalk. The pedestrian signal at the crossing beeped regularly in the background.
A patchy layer of ice and snow about an inch thick lay across the Washington Street sidewalk and continued around the corner to Clark Street. Precarious paths had been dug or trodden through piles of plowed snow to connect the sidewalk to the crosswalks of the two nearby streets.
"I wish people would clean the sidewalks better," Zimmerman said. She's been parked at the intersection for about 10 years and can walk to work from her house next door.
Prior to this intersection, she spent years at Park Avenue and Willow Street and also worked where Baldwin Street meets North Main Street across from First District Elementary. The oblique angle of this last intersection, combined with the number of students and the high volume of traffic, made the afternoon more difficult than its current station.
These days, she typically sees about seven Second District Elementary students. Buses drop two groups of students a block south on Clark Street, then they head north to where Zimmerman is waiting. In recent years, she has often found herself crossing paths with the children of students she helped decades ago. Sometimes a high school kid she crossed paths with when they were younger passes by and they wait to cross over with Zimmerman out of old habit and so they can chat.
Although she doesn't appreciate the cold, Zimmerman said her only gripe with drivers is cellphone use. She was nearly hit by a driver using a cellphone at the Washington and Clark intersection a few years ago, she said.
"My hands were on the hood of their car," she said. "I thought, 'He's going to stop, he's going to stop – no, he's not going to stop. I jumped aside, but my hands ended up on the hood of his car.
According to Zimmerman, the key to safe crossing in the age of distracted drivers is eye contact "so they know you mean business."
"Some people don't want to stop," she said.
That's what makes crossing guards like Zimmerman important, according to Trenga.
"They really care about the safety of the kids," he said. "Parents and guardians need to have peace of mind because when their children leave for school, there are many intersections in the city where there is a CG to help them get to and from school. come back safely."