Review: Fourth Element RF2 Freediving Wetsuit
Fourth Element returns this year with the RF2 6/5/4mm wetsuit! Last year I had the opportunity to test the first freediving suit they ever developed, the one-piece RF1 3/2mm paired with the RF 3mm vest. Afterwards, it became my winter suit for the cold waters from November to April from Xiao Liuqiu, Taiwan! While I felt super warm in the RF1, I missed putting on a two-piece suit and having a built-in hood. So when I heard Fourth Element released a two-piece suit, I begged for the chance to see it again!
First impressions
Oh how I love the look of the RF2! It looks ultra-professional with its minimalist logo on the chest and its shiny print on the side of the hood and on the back of the jacket. Just take a look at the seams of the beavertail closure and the taped and blind stitched seams to appreciate the evident quality of the construction. There's Glideskin on the shoulders and on the hood which is advertised to provide maximum hydrodynamic capabilities, and lined outer panels around the core, arms and legs for added durability. In addition, the face seal of the jacket and the waist of the pants are made of Smoothskin for optimal sealing.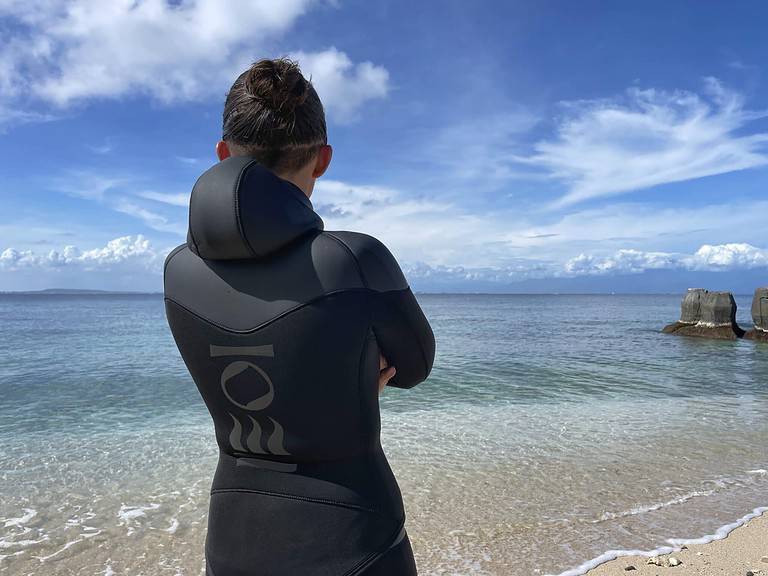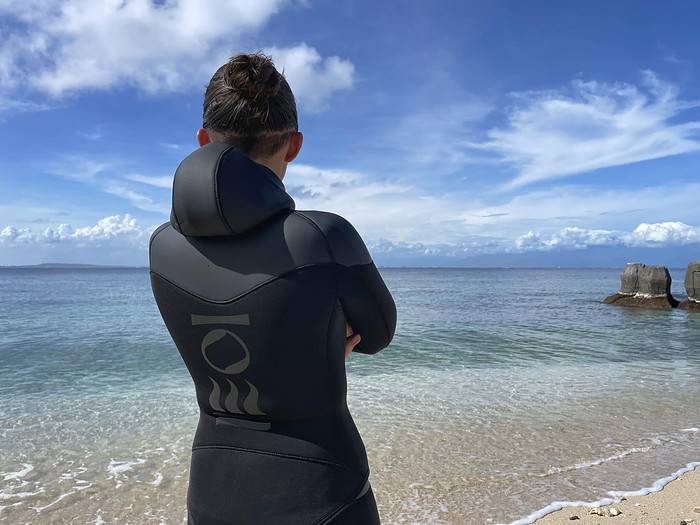 The interior of the suit is lined with open cell Metalite neoprene for better heat retention and sturdier construction. Fourth Element is known to be an expert at cold water diving, so they deliberately placed 4, 4.5, 5 and 6mm limestone neoprene in key areas to keep you warm exactly where you are. need it (while allowing you total mobility!).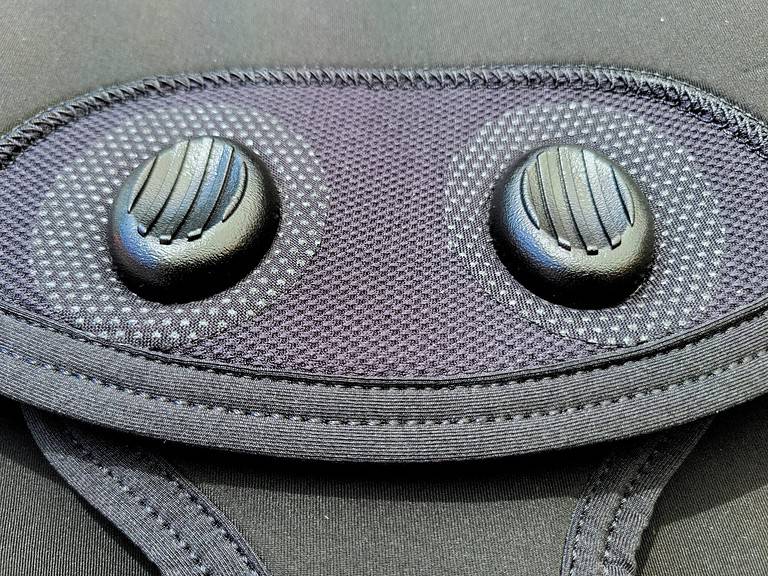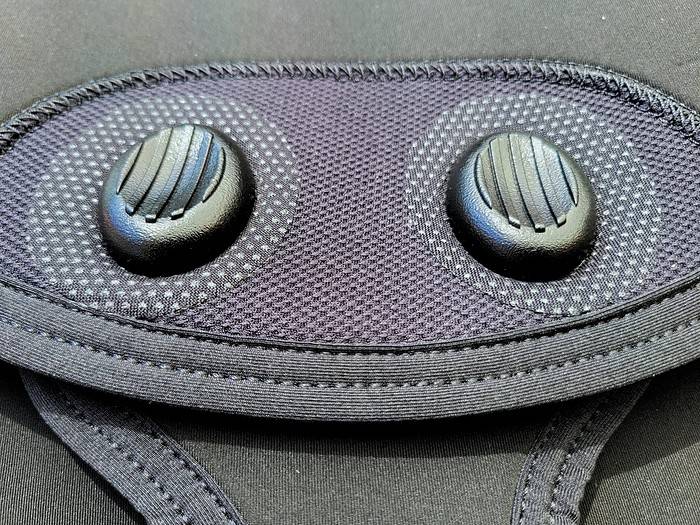 I also want to point out that the neoprene of the RF2 uses limestone instead of petrochemicals to form rubber shavings, which has much less impact on the environment. The rubber used in the neoprene is recycled by their wetsuit factory from post-consumer scrap tires, significantly reducing energy consumption and CO2 emissions. In addition, the yarn of the suit is dope-dyed, which saves a lot of water, reduces water pollution and also reduces energy consumption. All cut material from wetsuit production is recycled and reused to produce more neoprene, saving large amounts of raw materials and minimizing waste water and air emissions.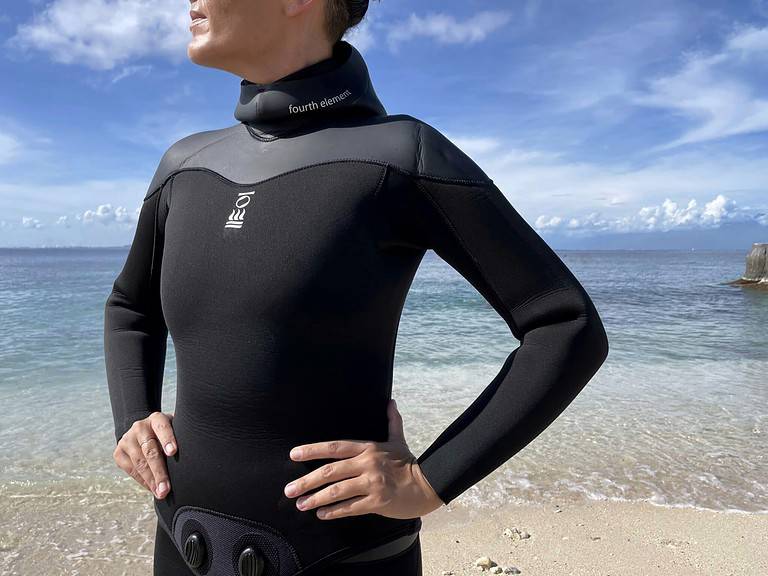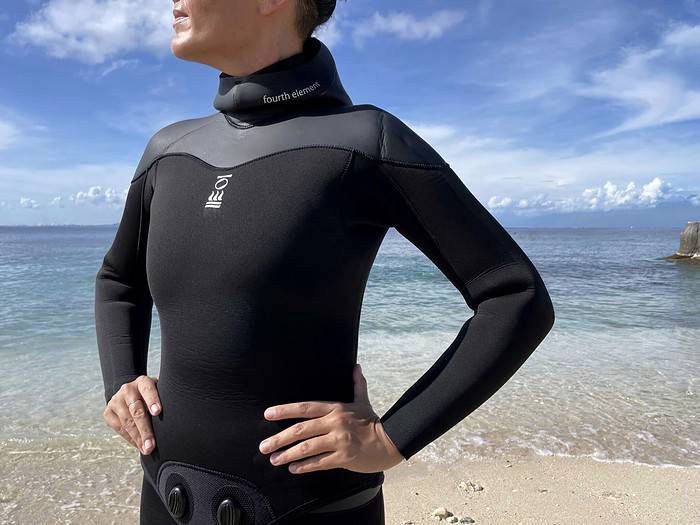 Although the production of freediving suits always has an impact on the environment, Fourth Element is part of its mission to minimize their impactwhat I find unique and admirable about them as a company.
Freediving performance
Putting on the RF2 was surprisingly a dream. I've only used a 5mm wetsuit a few times before and felt (and probably looked) like a snowman due to the unique neoprene thickness and lack of panels. However, the RF2 slid easily over my body with just a little lube and with the least amount of difficulty. The mobility of this suit is also something otherworldly – I could place my arms next to my body without straining and my range of motion was completely intact! I honestly didn't know this was possible with wetsuits over 3mm thick, and that's fantastic as I get cold very easily.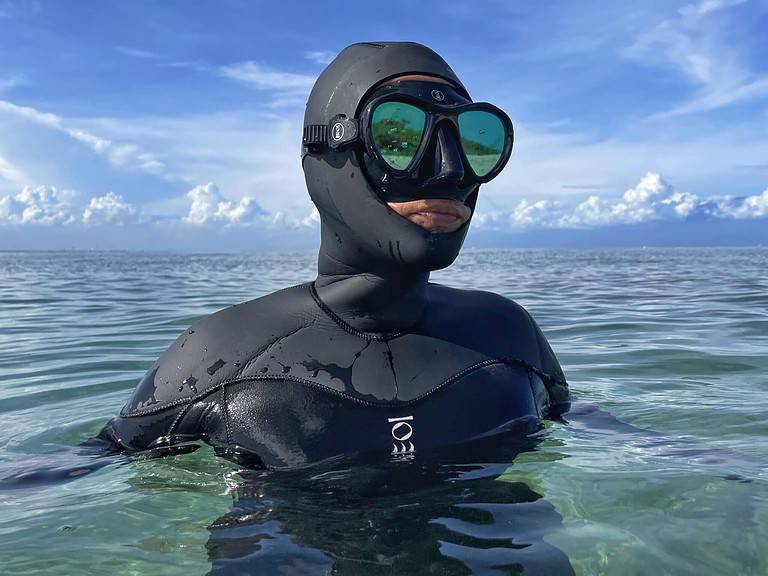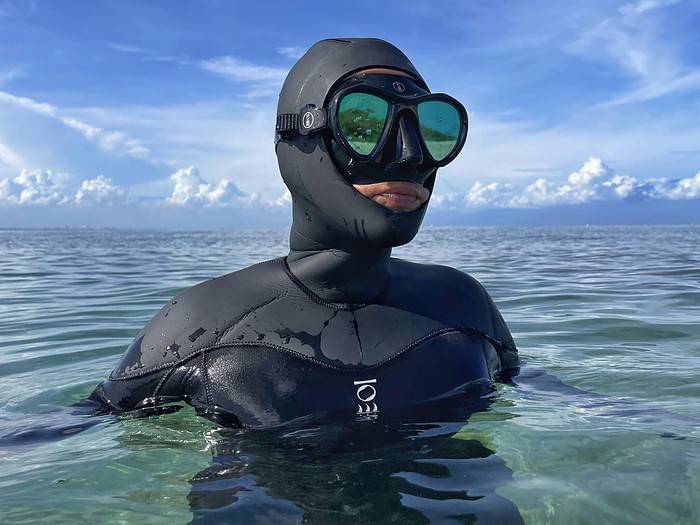 The streamlined fit is the most impressive of any standard size jumpsuit I've tried, and I especially like that you can choose short and high jumpsuits when choosing your size (I chose Small/Short for my 163cm / 5'4″ sisters!). Before entering the water, I filled my wetsuit with fresh water to keep cool until I reached the site of diving. For this reason, I don't even know if salt water got into my wetsuit until I deliberately flooded my hood. Don't tell anyone, but I was even a little afraid to pee in it, the seal was so good!
Personally, I found the neck a little stiffer than usual, however, it didn't really affect my dives. I also normally wear wetsuits that are 3mm or less so maybe it's just something to get used to for thicker wetsuits.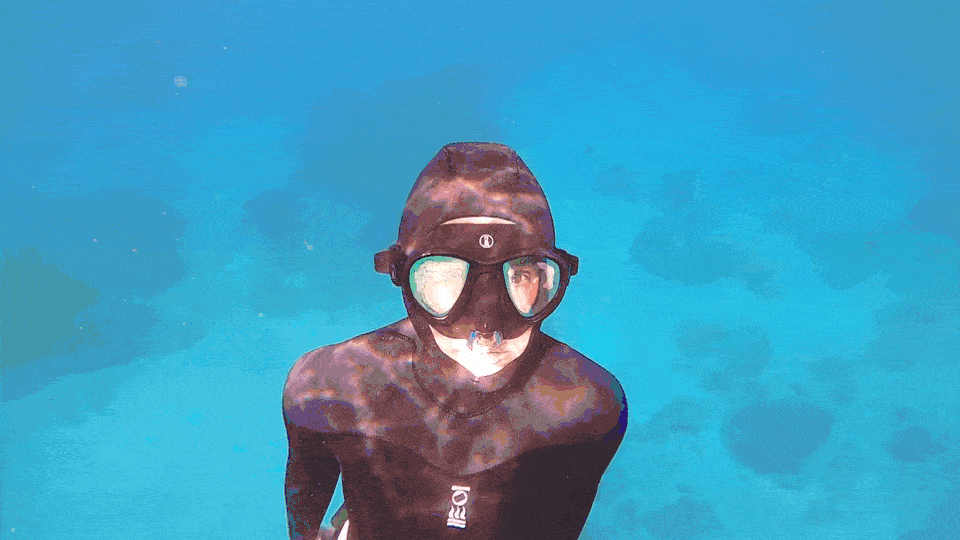 The performance of the RF2 in the water was exactly as expected of a high quality wetsuit – surprising. The differences in thickness meant that I didn't have just one thick layer of neoprene covering my body, forcing me to carry far too much lead weight to compensate for it. I was warm, comfortable, my level of flexibility was pretty much intact, and nothing on the suit pinched or penetrated my skin. I'm really excited to dive and teach this winter because of the RF2!
Final Thoughts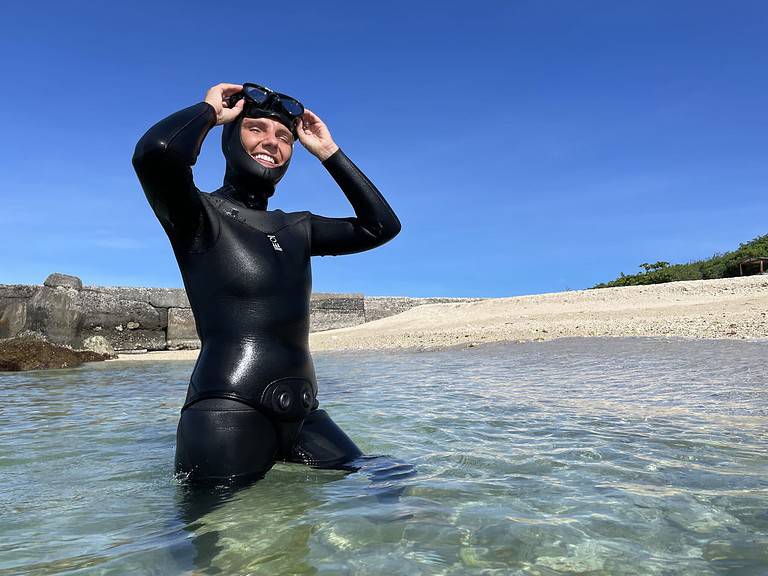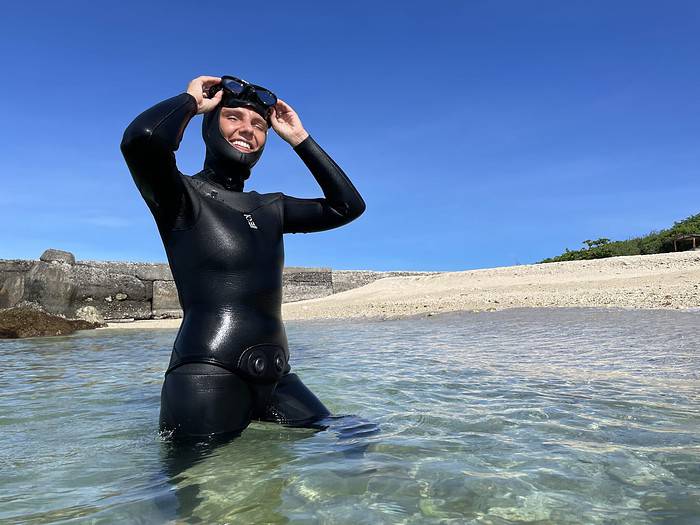 What a combination – The Fourth Element RF2 has completely changed my outlook on cold water diving! From the obvious quality of the materials used and the construction of the suit to the strategic placement of different neoprene thicknesses for total warmth and mobility, this is definitely my new favorite cold water suit! I also love its sophisticated look and am proud to wear a product from a company that tries to be as environmentally conscious as possible. This wetsuit is an absolute must for freedivers in cooler waters and I can't recommend it highly enough!
Features
Streamlined fit
Varied thickness for optimized comfort and performance
Soft and warm 'open cell' (Metalite) lining
Face seal and waist panel in smooth skin for optimal sealing
Glideskin outer panels for maximized hydrodynamics
Glued and blind stitched everywhere
Beaver tail closure
Supratex reinforced lined exterior
Calcareous neoprene
Ergonomic seams for freedom of movement
90% neoprene / 10% nylon
Price
RF1 Jacket – US$325 / €303 EUR / £259 GBP
RF1 Leggings – US$209 / €195 EUR / £166 GBP
buy It Now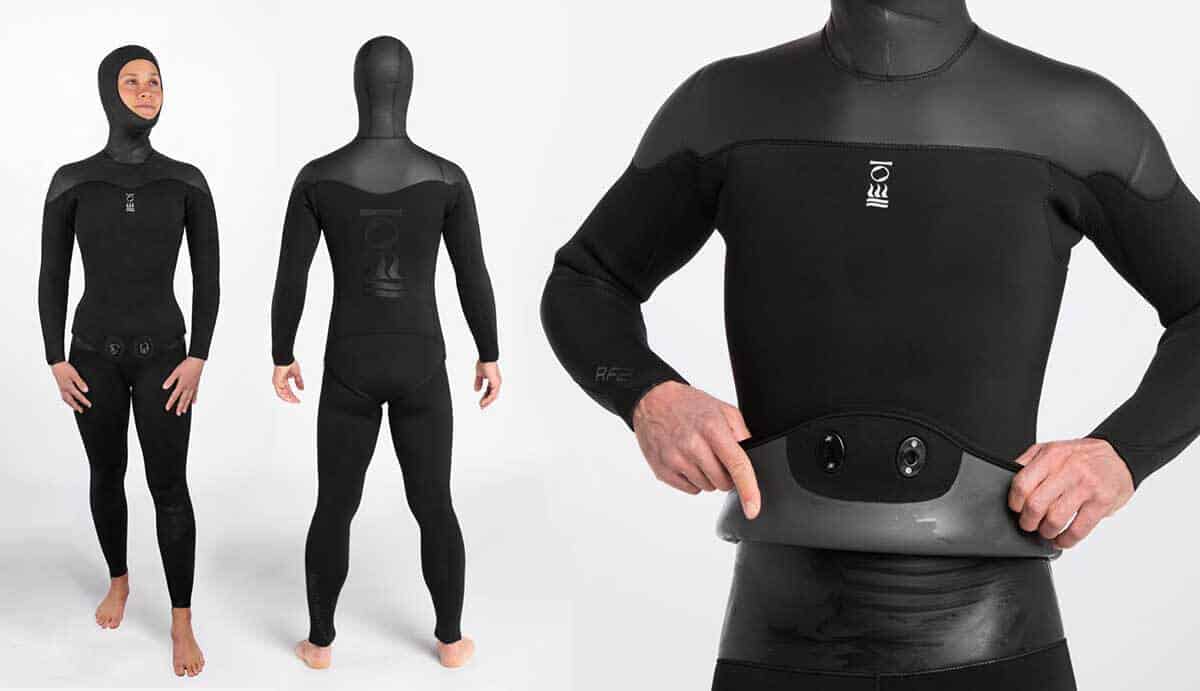 Freediving Suit RF2 – Fourth Element
From US$325 / €303 EUR / £259 GBP
Sleek and efficient, this two-piece freediving suit was developed for freedivers who want to enjoy maximum freedom and ultimate warmth.